The Cat Doctor
Utilizing both careful, thorough history taking and physical exams along with digital radiography, ultrasound examination and intraoperative cardiac/respiratory monitors, The Cat Doctor strives to create a cat and people friendly atmosphere where illness and injuries are rapidly diagnosed and compassionately treated, or better yet prevented. Thirty minute appointments allow our doctors to fully address any nutritional or behavioral concerns.

A common misconception among cat lovers is the assumption that cats who spend their time indoors don't need veterinary care "unless they are sick". Cats who don't come in for annual wellness exams may develop dental disease (since they won't brush their teeth) which can lead to heart, liver or kidney disease. A little preventative care can go a long way. Vaccinations are especially important for kittens, but even indoor cats will need occasional vaccine "boosters" during their adult lives.

Instead of the usual 15 minute appointment, Dr. Megan Thomas enjoys the luxury of half-hour appointments. Longer appointments allow time spent discussing your nutritional and behavioral concerns in addition to wellness and medical care, surgical or dental diagnosis and treatment. The Cat Doctor has six comfortable exam rooms.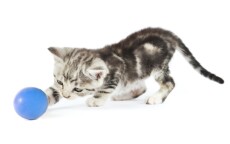 26055 Bouquet Cyn Rd.

Santa Clarita

,

CA

91350

Between Magic Mountain Parkway and Cinema Drive
Phone: (661) 259-5288

Fax: (661) 254-9672
Mon. - Fri. 8:00am - 6:00pm
Sat: 9:00am - 2:00pm
Sun: Closed